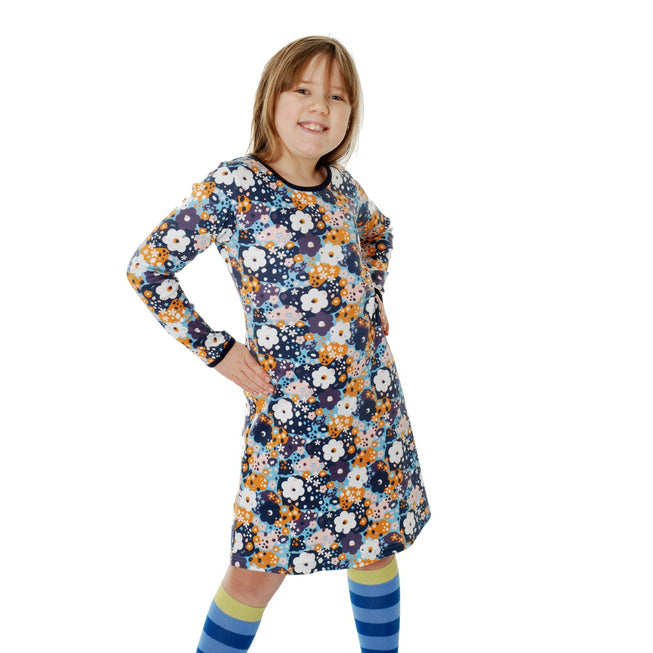 Duns Flower Long Sleeve Dress
Don't you just love this retro floral dress from stylish Swedes Duns? So nice!
Made from super soft, 100% GOTS certified organic cotton, your little one will love wearing this all day long. High quality, jersey fabric is nice and stretchy so is easy to get on and off.
Size guide:
3-6 months = 68 CL, length of child approximately 68-72 cm, chest measurement approximately 47 cm
6-9 months = 74 CL, length of child approximately 74-78 cm, chest measurement approximately 49 cm
9-12 months = 80 CL, length of child approximately 80-84 cm, chest measurement approximately 51 cm
12-18 months = 86 CL, length of child approximately 86-90 cm, chest measurement approximately 53 cm
18 months - 2 years = 92 CL, length of child approximately 92- 96 cm, chest measurement approximately 54.5 cm
2-3 years = 98 CL, length of child approximately 98-102 cm, chest measurement approximately 56 cm
3-4 years = 104 CL, length of child approximately 104-108 cm, chest measurement approximately 57.5 cm
4-5 years = 110 CL, length of child approximately 110-114 cm, chest measurement approximately 59 cm
5-6 years = 116 CL, length of child approximately 116-120 cm, chest measurement approximately 60.5 cm
6-7 years = 122 CL, length of child approximately 122-126 cm, chest measurement approximately 62 cm
7-8 years = 128 CL, length of child approximately 128-132 cm, chest measurement approximately 64 cm
8-9 years =  134 CL, length of child approximately 134-138 cm, chest measurement approximately 67 cm
9-10 years = 140 CL, length of child approximately 140-144 cm, chest measurement approximately 70 cm
---
Share this Product
---
More Nice Things